Hello, relatively new user of score here. Not essentially a question, but suggestion about my approach.
While trying to implement my first real score I encountered the following use-case.
My score is split in 3 scenarios. The 2 of them need to play sequentially, and as soon as the 2nd finishes in normal playback in needs to go back to the first. At any time a trigger should redirect execution to the 3rd scenario. Another trigger there should end this scenario and go to first (and repeat as above). For the 3rd scenario I need two options (I haven't decided yet which one I should follow). The first option is to loop it forever until the trigger is executed. The second option is to let the scenario play until its end except the trigger is executed and then go to the first scenario.
I attach a screenshot on how I implemented part of the above below in a simplistic score file where each scenario includes just an audio track inside.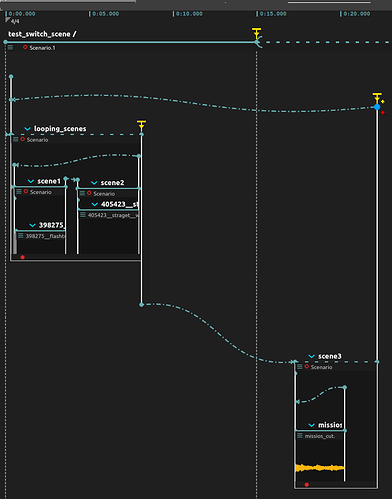 More specifically for the scenes 1+2 I included them in another scenario such that I can apply in that scenario a trigger for going to scene 3. Is this the proper way to do so?
For the 3rd scenario I have a loop back link such that it loops forever and a trigger for stopping this execution. For the alternative option (not shown above) I thought of just eliminating the loop and adding a limit to the "scene3" interval's duration such that it is stopped as soon as the internal elements finish.
Is there a better approach for anything of the above?
Thank you very much